Customer Reviews
Write a Review
Ask a Question
11/03/2019
Anonymous
United States
A great option for my Shelby
I purchased the indoor living urn with the Ficus Retusa following the passing of one of our pets. Our tortoise Shelby left us the day after the passing of our almost 12yr old Dalmatian. Needless to say, it was a very difficult week in our house. Knowing that we would have both cremated, I wanted something that wasn't just another box sitting on a shelf. This living urn is beautiful and I know Shelby would love the fact that we are memorializing her with a tree. It fits perfectly in our space and looks modern. Everything was very easy to set up. The tree shipped after the urn and both were here the same week she came back home. I can't thank this company enough for creating such a beautiful product so that pet parents have this option.
04/21/2019
Emily S.
United States
I purchased this urn for
I purchased this urn for my beloved dog Maddie and was pleasantly surprised by this pot. She was the best friend a girl could ask for and she deserved to have a great place to rest. It came nicely packed and was much bigger then I thought (pleasantly surprised). I have not been one to place ashes on a shelf to collect dust and loved the idea of tree memorials but am moving far to much to plant a permanent tree. So this was a perfect solution. The only problem is I don't have a green thumb but will try my best! Thank you for making my best friend's final resting place perfect. -Emily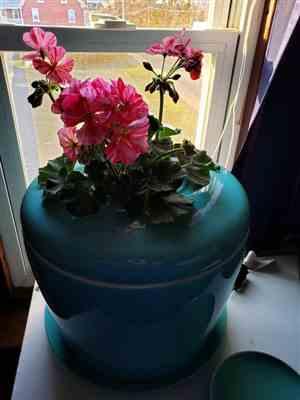 Beautiful memorial for my apartment
Ordering one now for Rex, my best friend who passed last year. Saw it on Facebook and it's beautiful!
12/03/2018
Shannon L.
United States
Great memorial for our labs
We bought 2 indoor urns for our beloved labs. Had both sets of ashes sitting in a box in the closet which didn't feel right. This urn is so beautiful and amazing and serves as such a great 'living; memorial for our best friends. Thank you for making such a wonderful product!